I saw this at
Mike's America
and wanted to share it with everyone!


Who is Sarah Palin?
The story in pictures...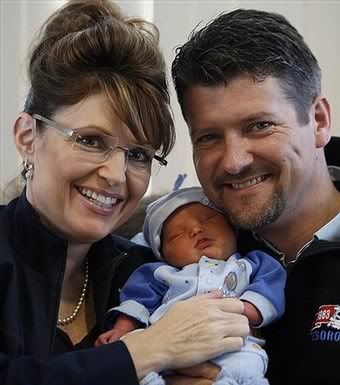 Alaska Governor Sarah Palin, left, and her husband Todd Palin hold their baby boy Trig in Anchorage, Alaska Wednesday, April 23, 2008. Palin's fifth child was born with Down syndrome, a genetic abnormality that impedes physical, intellectual and language development. "We knew through early testing he would face special challenges, and we feel privileged that God would entrust us with this gift and allow us unspeakable joy as he entered our lives" Sarah Palin said.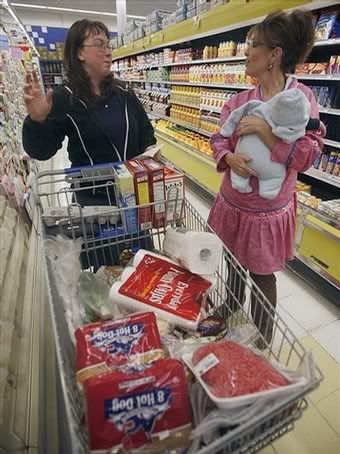 Laurie Serino, left, talks about the high food prices with Alaska Gov. Sarah Palin in Barrow, Alaska on Monday, June 30, 2008.


Governor Sarah Palin, 2nd from left attends National Governor's conference at the White House with President Bush February 2007.


Statement by the President on Governor Sarah Palin
White House News
August 29, 2008

Today, Senator McCain made an exciting decision in choosing Alaska Governor Sarah Palin to join him on his ticket as the Vice Presidential candidate. Governor Palin is a proven reformer who is a wise steward of taxpayer dollars and champion for accountability in government. Governor Palin's success is due to her dedication to principle and her roll-up-your-sleeves work ethic and serves as a wonderful example of the spirit of America. By selecting a working mother with a track record of getting things done, Senator McCain has once again demonstrated his commitment to reforming Washington.

I applaud Senator McCain for selecting Governor Palin. This decision is yet another example of why the American people can trust him to make wise decisions and to confidently lead this country.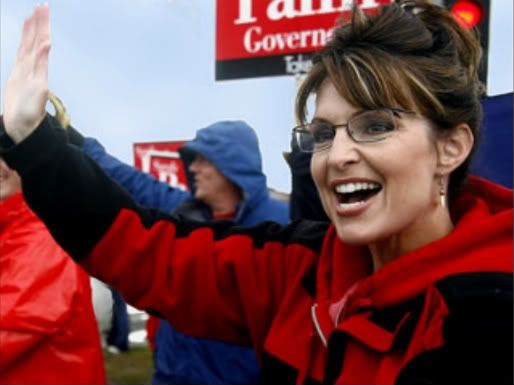 Sarah Palin campaigning for Governor. She won on a reform platform despite fierce opposition including some within her own party.


Governor Palin has firsthand experience in the quest for America's energy indepencence. Her husband Todd works on Alaska's North Slope helping to bring American energy to America's consumers. Like most Alaskans, she supports drilling for new energy in ANWR and offshore.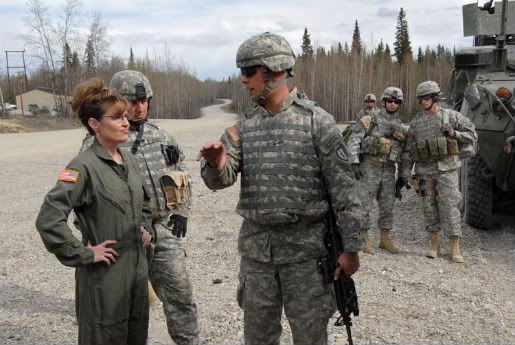 As Commander in Chief of Alaska's National Guard she's played an active roll in supporting our troops both at home and in vists overseas. Her oldest son will deploy to Iraq on September 11th 2008.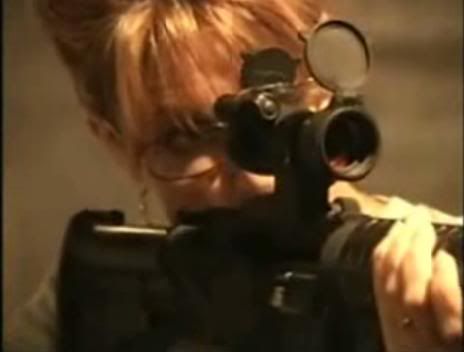 This is no pushover. She knows the business end of a gun and how to shoot it (video). Her nickname on the state campionship women's basketball team was "Barracuda." She is a hunter, pilot and lifetime member of the NRA. Joe Biden won't push THIS woman around in debates.
The proud parents: Chuck Heath, left, and his wife, Sally, react, in their home in Wasilla, Alaska, as Republican presidential candidate Sen. John McCain announces that he selected their daughter, Alaska Gov. Sarah Palin, to be his vice presidential running mate Friday Aug. 29. 2008.